This
post
was originally published on
this site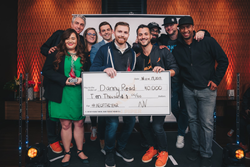 "Almost every profession has its annual awards, the recognition of Sales Professionals was way overdue," said Nicolas Vandenberghe, co-founder and CEO of Chili Piper.
NEW YORK (PRWEB) November 25, 2019
Chili Piper, the sales tech pioneer, announced today that Danny Read, B2B Services at G2 was named the 2019 Top AE in the nation at its First Annual Account Executive of the Year Bash on November 19th at Dreamforce. Read received $10,000 cash, a team outing for up to 30 members of his team, and a trophy.
The Second Place winner was George Cucharal, Strategic Account Executive at HackerOne, who received two round-trip flights to Paris. Third Place winner was Lynn Powers, Commercial Sales Director at Clari, who won an electric scooter.
The applicant pool was evaluated by five of the most renowned Sales experts: Mark Roberge, ex-CRO at Hubspot; Tessa del Rio, Head of Sales – SMB New Business Acquisition at Linkedin; John Barrows, the legendary Sales trainer; Kevin Dorsey, VP of Inside Sales at PatientPop Inc.; and Sahil Mansuri, CEO of Bravado, the largest community of sales executives in the world. The selection criteria were based on two factors which helped win a deal against the odds: 1) exceptional focus on helping the buyer and 2) outstanding collaboration and teamwork. The award was open to Account Executives at companies across all industries, disciplines and verticals.
"Almost every profession has
its annual awards, the recognition of Sales Professionals was way overdue," said Nicolas Vandenberghe, co-founder and CEO of Chili Piper. "We're thrilled by the quality and level of competition for our first Account Executive of the Year Award. Danny, George, Lynn, the top three as assessed by our expert jury, and many other applicants went out of their way to help their champions. Each of them tirelessly orchestrated the right resources for the right changes to happen, enabling the deals to close. Their success stories were truly inspiring, reading them was a privilege."
To learn more about Chili Piper's 2019 AE of the Year Award winners visit https://www.chilipiper.com/ae-of-the-year-finalists
About Chili Piper
Founded in 2016, Chili Piper's mission is to reinvent the system of action of Sales professionals to provide them with new levels of productivity and job satisfaction.
The firm is reinventing scheduling, calendar and inbox, the main apps used by revenue teams. Its recently announced Inbox is the first ever email client to combine shared emails, instant messaging, task management and CRM integration to help sales teams close more deals faster. Chili Piper's smart scheduling platform, which handles connecting prospects to sales reps instantly upon submitting a form as well as mass booking of meetings at events, is already used by Square, Intuit, Twilio, Gainsight and hundreds more thought-leading companies around the world.
Chili Piper is a fully distributed company leveraging global talent with employees in 28 cities in 14 countries. Visit https://www.chilipiper.com/ to learn more.
Media Contact
Ria Romano, Partner
RPR Public Relations, Inc.
Tel. 786-290-6413
Share article on social media or email: