Local Politician Matt Ready Creates New Washington Healthcare Organization to Combat Private Corporate Influence Over Healthcare
The Association of Washington Public Hospital Commissioners (AWPHC) Created to Counteract Undue Influence of private lawyers and corporations including the AWPHD (Association of Washington Public Hospital Districts) and MRSC (Municipal Research Service Center) Over Elected Leaders in Washington State Healthcare Industry
Press Release – updated: Jan 20, 2020 12:35 EST
PORT TOWNSEND, Wash., January 20, 2020 (Newswire.com) – Elected Public Hospital Commissioner Matt Ready (http://readyforhealthcare.org) is officially inviting all Washington State Public Hospital Commissioners to join the newly formed Association of Washington Public Hospital Commissioners (http://awphc.org).
"Currently, there is no reliable organization to help elected public hospital commissioners to collaborate or receive independent legal support," Ready explains.
Ready has been embroiled in a 6-year dispute with fellow commissioners over the basic right of a person to record an open public meeting of hospital commissioners. On two occasions, when the hospital was not officially recording the public meeting, Ready began recording the meetings on a personal device yet was asked to stop. On one of the occasions Ready was ordered to turn off his recorder, yet Ready refused. Ready explains, "I believe every word we say in these meetings is important. So I need a complete and accurate record of what we say.  I don't believe this job can be done ethically or competently without an accurate record of our public process."
Ready believes something is wrong with public officials and public employees attempting to stop an elected official from recording the activities of the elected body during an open public meeting. "I am pretty sure every person in Washington State has the right to record any open public meeting. I don't know why I have had to repeatedly defend this right. The arguments used against me have been a bunch of legalistic mumbo jumbo. This controversy has been an enormous waste of time and tax payer money."
Frustrated by the 6-year dispute over the recording issue, Ready decided to reinvigorate and relaunch the concept organization of the Association of Washington Public Hospital Commissioners. Ready posted on the association's Facebook page (https://www.facebook.com/groups/awphc) the following stirring prose:  
"I created the Association of Public Hospital Commissioners several years ago when I first realized the Association of Washington Public Hospital Districts was structured to prevent publicly elected officials from ever having power in the institution. Elected commissioners are banned from serving on the AWPHD Board. Now, after 6 years of struggling with a clear civil rights issue related to the recording of open public meetings (The Jefferson Healthcare Recording Fiasco) I am crystal clear that a non-corrupt networking institution for public hospital commissioners is needed."
"Public hospital commissioners are elected by the people. As a public hospital commissioner, I have sought support and guidance from the AWPHD and the nonprofit institution it funds to provide legal support to municipal corporations, the MRSC, to help resolve the 6-year dispute over recording public meetings. The MRSC and AWPHD refuse to offer an opinion."
"The AWPHD is controlled by hospital CEOs. The MRSC is funded by the AWPHD. The money controls the work as always."
"We can do better. Let's build an organization that actually supports the fair functioning of democracy."
As one of the first proposed actions of the newly launched association, Ready proposed the following on his Twitter feed:
"As one of the founders of The Association of Public Hospital Commissioners, I ask the association to consider the following proposal: we help fund the creation of a network of competent legal researchers and lawyers to support public hospital Districts."
A "network of competent legal researchers and lawyers to support public hospital Districts" could replace the role the Municipal Research and Service Center (MRSC) plays for public hospital districts.  
Why is this important?
The multiyear conflict between Matt Ready and the municipal corporation he serves as elected representative for, may indicate an interesting edge in the fundamental struggle between private corporate power and public power in the US Healthcare system. Ready says, "If our elected leaders don't have the basic right to document the use of power in open public meetings, then people willing to abuse power will have no reason to fear accountability. The fact that an elected official has been repeatedly pressured by a corporate agency and other commissioners to cease exercising a basic civil right such as recording a public meeting, without a single comment from local news media, local leaders of either party, or any local citizens seems to indicate there is something strange afoot in Jefferson County Washington."
To contact Matt Ready please direct message him on Twitter or Instagram (@MeditationMatt).
Source: Matt Ready
This
post
was originally published on
this site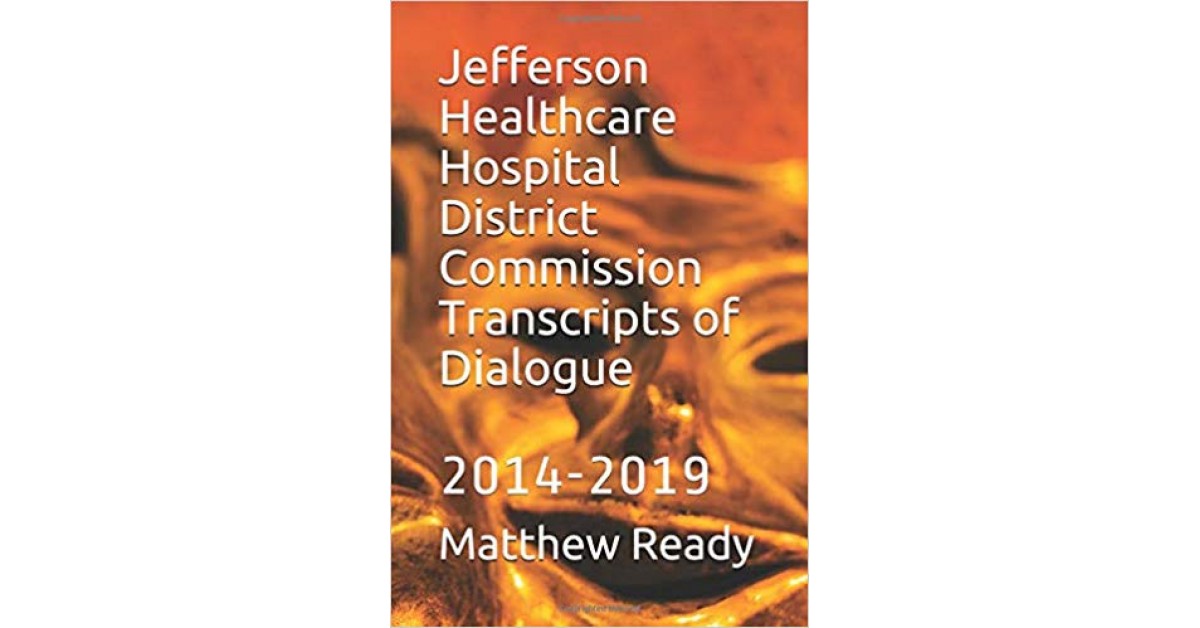 The Association of Washington Public Hospital Commissioners (AWPHC) Created to Counteract Undue Influence of private lawyers and corporations including the AWPHD (Association of Washington Public Hospital Districts) and MRSC (Municipal Research Service Center) Over Elected Leaders in Washington State Healthcare Industry
Press Release – updated: Jan 20, 2020 12:35 EST
PORT TOWNSEND, Wash., January 20, 2020 (Newswire.com) – Elected Public Hospital Commissioner Matt Ready (http://readyforhealthcare.org) is officially inviting all Washington State Public Hospital Commissioners to join the newly formed Association of Washington Public Hospital Commissioners (http://awphc.org).
"Currently, there is no reliable organization to help elected public hospital commissioners to collaborate or receive independent legal support," Ready explains.
Ready has been embroiled in a 6-year dispute with fellow commissioners over the basic right of a person to record an open public meeting of hospital commissioners. On two occasions, when the hospital was not officially recording the public meeting, Ready began recording the meetings on a personal device yet was asked to stop. On one of the occasions Ready was ordered to turn off his recorder, yet Ready refused. Ready explains, "I believe every word we say in these meetings is important. So I need a complete and accurate record of what we say. I don't believe this job can be done ethically or competently without an accurate record of our public process."
Ready believes something is wrong with public officials and public employees attempting to stop an elected official from recording the activities of the elected body during an
open public meeting. "I am pretty sure every person in Washington State has the right to record any open public meeting. I don't know why I have had to repeatedly defend this right. The arguments used against me have been a bunch of legalistic mumbo jumbo. This controversy has been an enormous waste of time and tax payer money."
Frustrated by the 6-year dispute over the recording issue, Ready decided to reinvigorate and relaunch the concept organization of the Association of Washington Public Hospital Commissioners. Ready posted on the association's Facebook page (https://www.facebook.com/groups/awphc) the following stirring prose:
"I created the Association of Public Hospital Commissioners several years ago when I first realized the Association of Washington Public Hospital Districts was structured to prevent publicly elected officials from ever having power in the institution. Elected commissioners are banned from serving on the AWPHD Board. Now, after 6 years of struggling with a clear civil rights issue related to the recording of open public meetings (The Jefferson Healthcare Recording Fiasco) I
am crystal clear that a non-corrupt networking institution for public hospital commissioners is needed."
"Public hospital commissioners are elected by the people. As a public hospital commissioner, I have sought support and guidance from the AWPHD and the nonprofit institution it funds to provide legal support to municipal corporations, the MRSC, to help resolve the 6-year dispute over recording public meetings. The MRSC and AWPHD refuse to offer an opinion."
"The AWPHD is controlled by hospital CEOs. The MRSC is funded by the AWPHD. The money controls the work as always."
"We can do better. Let's build an organization that actually supports the fair functioning of democracy."
As one of the first proposed actions of the newly launched association, Ready proposed the following on his Twitter feed:
"As one of the founders of The Association of Public Hospital Commissioners, I ask the association to consider the following proposal: we help fund the creation of a network of competent legal researchers and lawyers to support public hospital Districts."
A "network of competent legal researchers and lawyers to support public hospital Districts" could replace the role the Municipal Research and Service Center (MRSC) plays for public hospital districts.
Why is this important?
The multiyear conflict between Matt Ready and the municipal corporation he serves as elected representative for, may indicate an interesting edge in the fundamental struggle between private corporate power and public power in the US Healthcare system. Ready says, "If our elected leaders don't have the basic right to document the use of power in open public meetings, then people willing to abuse power will have no reason to fear accountability. The fact that an elected official has been repeatedly pressured by a corporate agency and other commissioners to cease exercising a basic civil right such as recording a public meeting, without a single comment from local news media, local leaders of either party, or any local citizens seems to indicate there is something strange afoot in Jefferson County Washington."
To contact Matt Ready please direct message him on Twitter or Instagram (@MeditationMatt).
Source: Matt Ready